I had the pleasure of writing a blog post for Kendall Jackson on how to read wine labels so I thought I might as well put it on my website too! I hope this helps you have some more confidence when trying to dissect that wine label! You got this.
Picture this scenario, you're at your local grocery store wanting to simply pick up a new and fun bottle of wine but you take one look at the gibberish on that wine label and you don't even know where to begin understanding it. We have all been there, even me! Here's the thing, being able to read the wine label is not going to magically help you know everything there is know about the wine but it will help you get a good idea on exactly what wine you are buying and where it's from. We always see ways to break down how to taste through a wine, color wheels on wine characteristics, etc, but we don't see many people talking about how to break down a wine label for the average wine enthusiast. So don't fret, I am going to show you a few easy and approachable steps to make reading a wine label a bit less stressful for your next shopping trip. Why should wine be stressful anyway? No one has time for that, wine is meant to be fun and enjoyable!
Before we get started, let's answer the question of the hour. Should we judge a wine based on its label? Well, as much as I am a sucker for a pretty looking wine label we should of course not judge the taste or quality of the wine based on that. I have disliked wines with beautiful fancy labels and adored wines with pretty much just a single line drawn across it. I will say, more and more often these days winemakers are aiming to create wine labels that showcase some characteristics of what their wine represents. After all, as consumers, we naturally shop with our eyes before our taste buds right? So I am not saying completely rule out what the wine label looks like all together, but take it with a grain of salt and keep reading to figure out how to understand it better.
I will be going into detail on how to read a wine label based on region, however, some important tips to remember right off the bat when shopping for wine is scout out which varietals you tend to gravitate more toward, regions you enjoy, along with the alcohol content you prefer. Once you get to know your palette better and taste more wine you'll be able to quickly figure out which wines you will opt for when shopping! Practice makes perfect when it comes to knowing wines and what you like to drink. Yes, I am telling to drink more wine. It's educational!
First, let's begin with knowing there are two main different wine labels you will notice while shopping, wines with a label design showcasing their brand name, and a wine label designed with their appellation qualifications. In a nutshell, you are differentiating between reading a New World Vs Old World wine label. Let's first break down the difference between the terms Old World and New World wines so then we can understand the labels a bit better. Old World wines are any wine made in Europe. For example, France, Italy, Spain, Germany, Hungary, Switzerland, etc. Old World Wine regions allow only specific grapes to be grown, winemaking methods and other standards in order for the region to be placed on the label of the bottle. Old World wine labels go by region name, not grape varietals with Germany being the exception. Are you still with me? You might find the following when reading an old world wine label, name of the wine region, name of wine Producer, name of the winery, Chateau, etc…, Wine classification label (usually on the neck of the bottle and main label): i.e. A.O.C., D.O.C and so on.
Here is an example of how to quickly read an Old World Wine Label:
Moving on to what a New World wine refers to! A New World wine is basically any wine that's not made in Europe. For example, North America, South America, South Africa, Australia, New Zealand. These wine labels are classified by the grape variety which makes reading the label a bit easier in my opinion. At first, glance when reading a New World wine, you might find the following on the wine label. Grape variety, producer or winery name ( Kendall Jackson), fantasy name, vineyard, wine region name (Sonoma). Here is an example of a new world wine label:
So now that we know the main differences between reading an old world wine label and a new world, let's talk about the different requirements of a wine label. This depends on where it's made, are you getting the trend? Ha! Don't worry, we won't make this too intense, I will simplify it the best I can.
Most European wines need to follow:
1. The name of the product category of the vine. For example, this means it needs to say, "still wine, sparkling, liqueur wine, etc.
2. Alcohol percentage
3. Indication of provenance wines with an AOC, AOP or IGP, the name of the country of origin must appear on the label. Example, "produced in France" or "wine of France."
4. The Allergens, example "contains sulfites"
5. Health warning statement you know that message that says "don't drink while pregnant."
6. Health warning statement
Some things that are optional but most wine labels will include are:
1. Vintage, aka the year grapes, were harvested
2. Fantasy name, meaning the name the wineries marketing team came up with to sell the wine.
3. Vineyard designation (where the grapes for the wine were grown).
4. A special designation such as (private selection or reserve. For example, K-J Grand Reserve wines include the CCSW (California Certified Organic Farmers) certified logo. To learn more about what is required for a wine to have a CCSW logo click here.
I will conclude this by saying, as a sommelier I still need to refer back to the basics when reading new wine labels. It can get confusing with all the different wording depending on where the wine was made! The more and more you shop for and try new wines the easier it gets. I highly recommend next time you're at a winery or wine shop, ask someone to go over the wine label with you. The passion to learn and be educated about the wine you are consuming is contagious and any winemaker would be more than happy to share as many details as they can with you.
Cheers and happy drinking,
Sam
Still, kinda confused on how to dissect a wine label or you really just want someone one on one coaching in the world of wine? I got you. Click here to view my wine consultation package! Perfect for any level of wine enthusiast trying to gain a bit more confidence.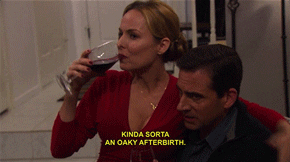 St