Because the Sam Somm Fam is from all over the place, I decided to try and stick to mostly my favorite Kirkland Signature Wines as those are more likely to be the same or similar in most locations, but some other winners just may sneak their way in! Wine prices may vary slightly from this blog post, as it's based on my personal experiences & some online hunting-- but should be pretty damn close to accurate.
Grab yourself a Costco Churro & have a blast Costco Wine Hunting!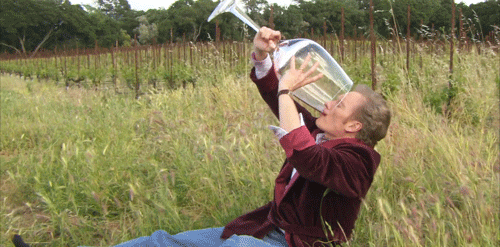 Sparkling
Kirkland Champagne Brut
Okay Yum!! Sitting around $20 a bottle, you cannot beat this price for Champagne! The winemaker, Manuel Janisson's own Janisson Champagne retails for $40-$50 per bottle--so a total steal! This Champagne comes for the vineyards of Verzenay & has notes of crispt lime, apple orange & gingerbread, pairs amazing with anything salty & fatty, making it perfect for a Sunday brunch!
Il Fiore Prosecco DOC
BULK BUY
From Veneto Italy, this Italian Prosecco, tends to make occasional appearances at Costco & when it does, it's a must grab, maybe even a bulk buy!! If you love Prosecco then you will seriously enjoy this one, with its crisp sweetness & hints of tropical flavors it pairs well with shellfish, vegetarian dishes & appetizers! The Il Fiore Prosecco can be found for around $8 a bottle at Costco!
Kirkland Signature Asolo Prosecco Superiore DOCG
BULK BUY
Okay, talk about an affordable yummy wine!! Sitting around $7 a bottle, this Kirkland Signature has a seat at the table whenever it's time to celebrate! & Don't be fooled by this price, this is a DOCG level wine, which is the highest classification of Italian wines there is. This prosecco hails from the Asolo Prosecco region near Treviso which is at the base of the Alps (umm okay--beautiful) making the climate perfect for these sweet bubbly wines! I may even call this one a porch pounder...
White
Kirkland Signature Russian River Valley Chardonnay
Okay, since we have had a lovely time abroad with our bubbly wines, it's time to come all the way back to Sonoma County California! This Kirkland Signature Chardonnay is priced at $13 a bottle & is aged in French Oak, which gives it a delicious and lingering exotic taste. With its hints of pear & fig, pair this wine with a cheese board & don't forget the bread & butter as this wine has an ABV of 14% so you may want the snacks (;
Kirkland Signature Sancerre
This Sancerre is made from 100% Sauvignon Blanc Grapes from Sancerre, Loire Valley, France. Joining in 2019 this Sancerre is one of the newer members of the Kirkland Signature family & is priced around $16 a bottle, but don't forget the discount when you bulk buy because this one is worth it! A great warm-weather wine for all of you in the Arizona area. Pairs well with seafood & goat cheese & to be honest; sour cream & onion chips!
2017 Laguna Chardonnay, Russian River Valley Sonoma County
Okay, now th